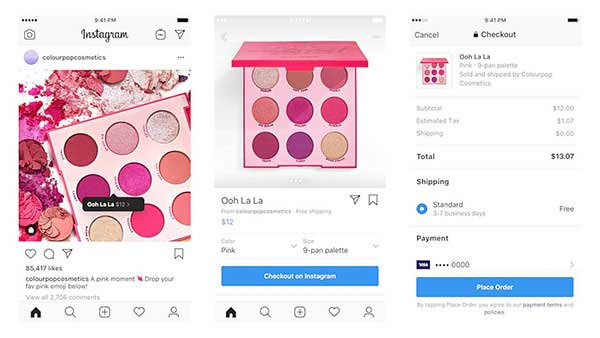 On March 19, Instagram launched a new e-commerce feature known as Checkout. Still at the beta testing stage, Checkout will allow users to buy products directly from shoppable posts without leaving the app. Adidas, Kylie Cosmetics, Dior, and Zara are among 23 brands selected to beta-test the feature which is still only available in the US.
Unfortunately, most IG users still don't understand exactly how Checkout will change how they use Instagram. This short guide should help you fully understand and begin to appreciate the innovative feature.
What is Checkout?
Checkout is an ecommerce feature that allows any Instagram users to buy items from selected brands without leaving the app. When a user comes across a product they like on an approved brand's shopping post, they'll see a horizontal, blue "Checkout on Instagram" bar towards the bottom of the post which they can tap to purchase the item.
How it works
When a user taps on the blue (Checkout on Instagram) bar, they'll be taken to a new screen where they can specify various options such as color and size, depending on the product. After this step, they're then taken to another new screen where they enter they name, email, shipping information, billing address, and other payment details. After providing all the required details, the user can then proceed to place an order. This is accomplished with a single tap on a Checkout button. Users can easily track their orders, again without leaving Instagram. Among other things, one can view the order status and estimated delivery date. An order tracking number is provided for this. Shoppers can also cancel an order, initiate a return, or request additional support on the app.
Advantages of Checkout
Instagram Checkout comes with a host of benefits. First off, if you've been following Instagram news closely, you'll have noticed that the platform is not just incredibly popular among businesses but also full of people at the final stages of the purchase journey. At the moment, Instagram is home to 25 million+ business profiles and over 2 million advertises, with over 200 million account holders visiting at least one business profile daily.
Checkout is here to connect these two by making it possible for interested shoppers to make purchases directly on the app without unnecessary stress. By doing so, it also gives retailers the opportunity to turn follower relationships into sales opportunities.
What else do entrepreneurs need to know?
There are a couple of things;
Consumers only need to input their details once: After completing the first purchase, their details are saved securely so the next shopping experience is even smoother.
It's still in beta testing: You may not be able to use Checkout just yet as it's still in beta testing. But, rest assured it will be rolled out to the public very soon, possibly this year.
You can't use Checkout with IG ads: Instagram Checkout can only feature on posts on the newsfeed and in Instagram Stories.
Final words
Remember that Instagram will likely take a cut from each sale made with Checkout. The exact amount hasn't been announced yet. But, it's something you can expect.