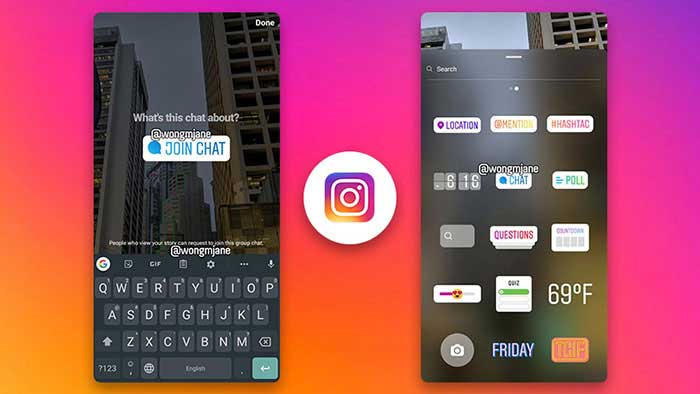 Instagram has been making the headlines for the right reasons recently and that trend isn't slowing down anytime soon. After announcing that they're adding a fundraising sticker to chats and Stories, the platform is said to be also thinking about adding a new "Join Chat" sticker to further drive conversations.
The news first broke on May 2nd when reverse engineer Jane Manchun announced on her Twitter account that IG is testing a new feature known as "Join Chat." The tweet read;
"Instagram is working on a Chat Sticker, as stated in the app: "People who view your story can request to join this group chat."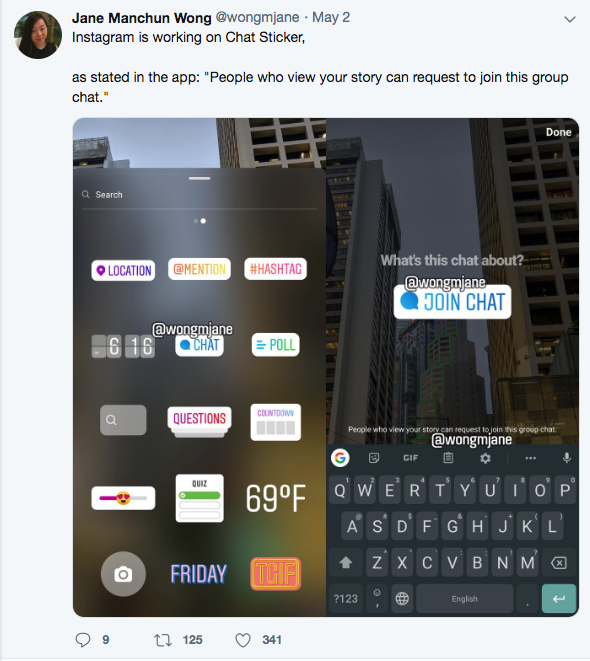 Although Manchun didn't reveal further details about the new feature, a few pictures have emerged on social media suggesting that a user doesn't have to be following you to request to join the chat. As long as they can see the story, they can make the request.
Indeed, insiders say that there'll be a note right below the "Join Chat" sticker informing publishers that people seeing the Story can request to join the chat. The message, going by images circulating on social media reads; "People who view your story can request to join this group."
It is also presumed that since this is merely a "request" sticker, publishers have the power to accept or reject it.
Why the "Join Chat" sticker?
The way we see it, Instagram is just continuing with what the company has been doing recently;
Boosting engagement on the platform
Creating new avenues for revenue generation
Instagram seems to have embarked on a campaign to boost engagement on the platform. This is fueled by reports showing that 85% of conversations on the network revolve around just three friends. To help grow these conversations and bring friends even closer on the platform, the network has been working quite a lot on private groups/conversations. Instagram Direct which has been quite successful, for example, was developed specifically to enable private chats. The new "Join Chat" stickers are intended to further boost conversations between friends.
As for creating a new revenue channel, Instagram has also been working to boost the platform's monetization efforts. The recent introduction of shopping stickers is clear evidence of this. The network must be hoping that "Join Chat" stickers will encourage brands to engage influencers more, leading to more sales activity on Instagram.
A brand working on a Story with the aim of getting as many eyeballs on their posts as possible, for example, can use Join Chat to bring Influencers into the conversation. When fans of the influencer see that their star is looking at that story, they'll want to be involved too, leading to more views. In the end, all parties, the brand, influencer, and Instagram both benefit.
Stay Tuned to Learn More
Since this is a new feature that isn't even available to the public yet, information about it is scanty. Instagram hasn't even confirmed whether the claims are true yet. We're keeping our eyes and ears open though and whenever any news comes out, you'll find all the details here!