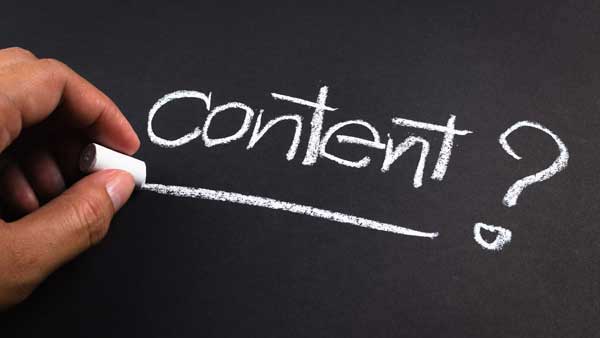 The phrase "Content is King," first referenced by Bill Gates in an essay in 1996, gets bandied around quite often, to the point that some marketers are growing tired of it. However, like it or not, this phrase holds true today more than ever. Even with the increasing growth of advertising and monopoly of social media, content marketing is the glue that holds digital marketing strategies together.
The following are just a few reasons (backed with stats) to prove this;
Consumers say they prefer valuable content to sales pitches

There have been multiple studies on this and the findings are all the same – consumers want useful content, not endless sales pitches. In the recent Economist study "Missing the Mark: Global Content Survey," 71% of respondents said they're "turned off" by marketing messages that sound like a sales pitch. A different study by Lyfe Marketing found that 78% of consumers prefer to learn about a company through articles rather than promotions.

Email recipients are demanding informative content

Email marketing is one of the most trusted forms of digital marketing. Yet, it turns out that marketers have been doing it all wrong. According to recent studies, most brands use the emails to brand and promote, a trend that recipients find repellant. In a recent study by Adobe, 84% of respondents said they would prefer if brands reduced the promotions and instead provided valuable information. A separate study by the McCarthy Group found that 84% of millennials are confused by promotional emails, with a majority instead relying on informative content to make purchase decisions.

Quality, relevant content now more important than branding in search ranking

If you're looking to rank highly in search engine result pages, you better prioritize quality and value. Yes, branding is still important. However, the impact of quality, valuable content is now far greater. Don't believe it? Well, Group M recently polled digital consumers and found that only about 16% conduct branded searches. The other 84% all conduct organic searches. Another study conducted by a popular digital marketing company found that between 70% and 80% of digital consumers ignore paid ads in favor of organic results.

A majority of consumers are reading blogs before making a purchase decision

A recent Forrester study found that the average digital consumer reads 11.4 pieces of information before making a purchase decision. In a different study, the Content Marketing Institute (CMI) not only confirmed this but further discovered that 61% of consumers who read recommendations on a blog end up making a purchase. Finally, ABG Essentials, another popular digital marketing company, recently found that content marketing conversion rates are 6X higher than that of other digital marketing strategies.

Content Marketing Budgets also on the Rise

If you're still in doubt, just take a look at this year's content marketing budgets in comparison to last year's budgets and next year's projections. This year, one-third of marketers increased their content marketing budgets while about 53% spent as much as they did last year. Only 18% spent less on content marketing.

These stats are enough evidence that the role of content in digital marketing only keeps growing.